Rocker Type
Standard Camber: Snappy and Precise – Standard or low camber provides the stability at higher speeds many shreds can't live without. The amount of snap and pop you get from a cambered board is unrivaled by any other design. If you like to haul ass and go big, camber is irreplaceable.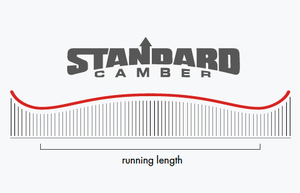 Flex
All Terrain: All Mountain Pop – Nitro's most versatile flex pattern, combining Nitro's signature pop with smooth response, allowing you to tear up the entire mountain.
Shape
Progressive Sidecut – A larger radius in the front, blended into a tighter one towards the tail: The progressive sidecut makes accelerating out of turns a breeze, while maintaining a catch-free nose area.
Tapered Swallowtail
Core
Powercore II: Enhanced Performance and Extra Strength – The Powercore II is a tip-to-tail poplar wood core with additional beech wood stringers for unrivaled strength, smooth response, and insane snap.
Laminates
Bi-Lite Laminates: Forgiving and Strong – Nitro's rider-trusted Bi-Lite Laminates are engineered for unrivaled strength, powerful style, and refined board-feel.
Base
Sintered Speed Formula HD Base – Utilizing a new base material compound, Nitro has been able to achieve higher abrasion resistance, increased wax absorption, and higher on-snow speeds. All in an ultra clear package for extra crisp graphics.
Die-Cut Base – Base color displayed may not be available. Base colors may vary.
Binding Compatibility
2 x 4 Insert Pattern