Rocker Type
Flat Out Rocker – Flat Out Rocker is a hybrid Zero Camber profile where the nose and tail lift off before the traditional contact points, providing effortless turns and smooth maneuvers. The lifted nose and tail provide excellent float, pressability, and forgiveness in any terrain. This playful yet stable profile allows for easy progression and all-mountain domination.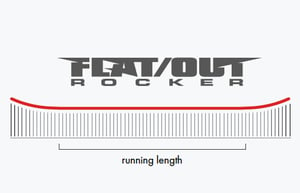 Flex
All Terrain: All Mountain Pop – Nitro's most versatile flex pattern, combining Nitro's signature pop with smooth response, allowing you to tear up the entire mountain.
Shape
True Twin
Dual Degressive – This sidecut blends a smaller radius in the center with two larger ones in the tip and tail, making it loose and playful. The most forgiving of Nitro's sidecuts.
Power Pods – Extended width under the bindings provides additional edge control and board turning performance. The extra width under the bindings eliminates toe and heel drag while offering exceptional control and natural board feel.
Core
Powercore II: Enhanced Performance and Extra Strength – The Powercore II is a tip-to-tail poplar wood core with additional beech wood stringers for unrivaled strength, smooth response, and insane snap.
Whiplash Core Profile: Maximum Ollie Power – This profile features reduced thickness between the inserts with added meat outside your feet for maximum ollie power, while maintaining a perfect press flex.
Laminates
Bi-Lite Laminates: Forgiving and Strong – Nitro's rider-trusted Bi-Lite Laminates are engineered for unrivaled strength, powerful style, and refined board-feel.
Ballistic Impact Panel – Kevlar© is used in bulletproof vests and body armor to protect your core. Nitro uses it in strategic places around the binding-to-board interface to protect the construction from impacts during hard landings.
Diamond Band – Carbon reinforcement fibers are ultra strong yet lightweight. Tip-to-tail stringers transfer rider's input to help you drive your board and stay in control.
Base
Sintered Speed Formula HD Base – Utilizing a new base material compound, Nitro has been able to achieve higher abrasion resistance, increased wax absorption, and higher on-snow speeds. All in an ultra clear package for extra crisp graphics.
Die-Cut Base – Base color displayed may not be available. Base colors may vary.
Edges
Railkiller Edge – Nitro's Railkiller Edge is your secret weapon for rails, rocks, and longevity! With its unique edge profile and an impact resistance of more than 200% compared to a standard edge, the Railkiller Edge is twice as thick and twice as strong. This proprietary construction can take on any rail challenge. Take a file to them or ride them hard and wear them down naturally, this chunk of steel has enough meat for years of abuse.
Binding Compatibility
2 x 4 Insert Pattern