Rocker Type
Triple Base Technology (TBT) – Triple Base Technology divides the nose and tail area into 3 parts: 1. The left sidebase for turning left. 2. The center flat middle base for going straight. 3. The right sidebase for turning right. Combining a full tip to tail classic camber with a rail to rail concave, it gives the looseness of a rocker shape board with the pop and response of camber. On edge, the camber is loaded and ready to pop you into your next turn. Meanwhile, the edge is fully engaged with a solid power distribution along a smooth edge curve.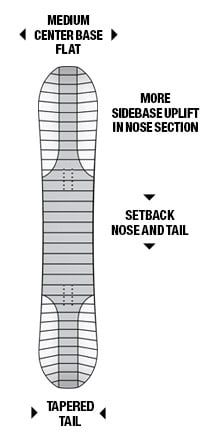 Flex
Flex Rating: 7 (1 Soft - 10 Stiff) – Retains some playfulness but definitely has more drive as opposed to less.
Shape
All Mountain TBT – All Mountain TBT has a slightly narrower center flat base section than Freestyle TBT and it's camber profile is a bit more aggressive. Together with a longer flat section under the feet it delivers faster riding with superb response edge-to-edge and maximum stability at high speed. With a very slightly directional TBT, the board is optimized to ride forwards, but is more than capable of performing switch when necessary. All Mountain TBT does what it says on the tin: performs over the whole mountain. The extra uplift in the sidebases after the effective edge ends greatly improve the float in powder.
Core
Reactor Core – Poplar core with hardwood reinforcements along the sidewalls. The hardwood along the edges equalizes the force of the turn along the full contact edge, making it less twitchy on harder snow and reinforcing the boards stiffness.
Laminates
Tri-Ax Laminate – Tri-ax laminates over and under the wood core include fiberglass layers aligned in three directions (two at 45 degrees to the edges and the extra one along the boards length). This generally increases the stiffness and stability of the board to deliver maximum precision in your riding.
Carbon Enhanced – Everyone knows carbon is the hot stuff right now. Super strong, super light and super dope. Carbon stringers under the wood cores in our boards save weight and work to add strength, reinforce targeted sections and focus pop depending on their alignment to the fiberglass.
Kevlar Enhanced – Extra Kevlar stringers in nose and tail enhance pop with volcanic explosiveness while keeping it torsion friendly between your feet.
Base
Sintered Base – Fast! Great wax absorption and as hard as nails. These bases come with factory wax already infused. Top it off regularly to get the most out of the base.
Binding Compatibility
Party Pattern 4 x 2 – The 4 x 2 / 24 pattern offers maximum precision for your binding's position with 24 inserts for a large total stance width range.