Rocker Type
Triple Base Technology (TBT) – Triple Base Technology divides the nose and tail area into 3 parts: 1. The left sidebase for turning left. 2. The center flat middle base for going straight. 3. The right sidebase for turning right. Combining a full tip to tail classic camber with a rail to rail concave, it gives the looseness of a rocker shape board with the pop and response of camber. On edge, the camber is loaded and ready to pop you into your next turn. Meanwhile, the edge is fully engaged with a solid power distribution along a smooth edge curve.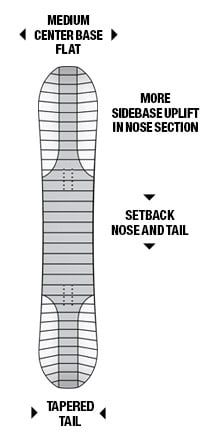 Flex
Flex Rating: 3 (1 Soft - 10 Stiff) – A light medium flex, great for all terrain shredding while excelling in the park.
Shape
Freestyle TBT – The width of the two sidebases and the centerbase are equal. The equal section widths give a symmetrical edge-to-edge concave, which is combined with a now more aggressive traditional tip to tail camber profile on the centerbase section to perfectly balance park riding and general cruising. Boards with Freestyle TBT boast a longer contact length between the feet. Freestyle TBT is still symmetrical about the nose and tail to give the same performance when riding switch as forwards. A 'good-for-everything' shape, with fast and free edge-to-edge looseness and agility and overall stability.
Core
Pop Core – Snappy, flexible poplar wood that gives it a soft flex without sacrificing strength.
Laminates
Bi-Ax Laminate – Bi-ax laminates over and under the wood core include fiberglass layers aligned in two directions at 45 degees to the edges. This creates an easy and forgiving flex, which allows you to really feel the terrain.
Base
Extruded Base – Easy to repair and takes a beating! Low maintenance and still slides well with irregular waxing, not that the guys at Bataleon are condoning anything other than a militant waxing regime (like Rihanna's).
Binding Compatibility
Precise Pattern – The 4x2 / 20 pattern allows you to attach your bindings with scientific precision.