Flex
Flex Rating: 3 (1 Softest - 10 Stiffest) – A soft, forgiving flex perfect for new riders looking to progress their skills or for advanced riders who want a soft park boot.
Fit
Women's-Specific True Fit™ Design – Burton's women-specific fits are designed to create a harmonious connection between your boot, bindings, and board. Every element of this fit construction is engineered for who women ride.
Total Comfort Construction – Get an instantly broken-in feel right out of the box. Total Comfort's industry-exclusive construction eliminates the break-in period for a fit that feels just as good from opening day to day 100.
1:1 Soft Flex Tongue – Every woman's boot deserves a perfect match, which is why Burton has reshaped their tongues for a 1-to-1 fit for each available size. The ladies-only result is an anatomical match for the specific creases and curvatures of every foot - providing a better wrap and eliminating frustrating readjustment of oversized or undersized tongues when lacing them up.
Liner
Imprint™ 1 Liner with Integrated Lacing – Burton's Imprint™ 1 liner is extremely comfortable and has an integrated lacing system and inner lace lock. The lightweight power panels and molded EVA footbed are heated moldable.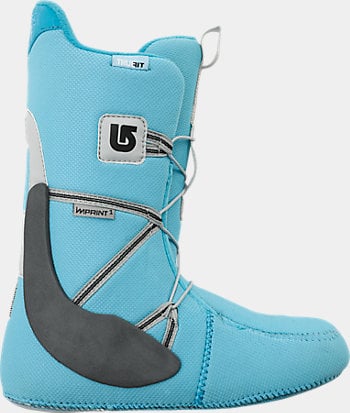 Lacing System
Speed Zone™ Lacing System – Lightning fast lacing control at its finest. Customize the fit of the upper or lower zone in seconds; because the system is so powerful, you get more rebound, more wrap and better response, all with less effort.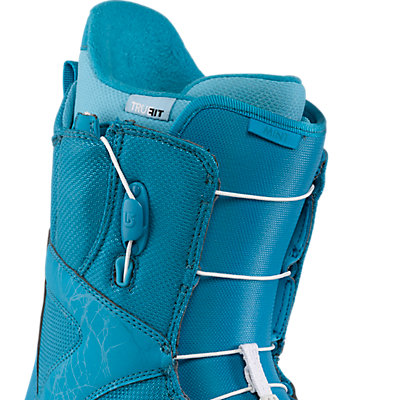 Footbed
Level 1 Molded EVA Footbed – The Level 1 Molded EVA Footbed is extremely lightweight and highly shock-absorbant.
Sleeping Bag Reflective Foil – This low-profile and lightweight underfoot technology reflects heat back to the feet, improving both warmth and comfort when faced with cold conditions.
Sole
DynoLite EST® – Superior cushioning, improved board feel, and consistent support in a 20% lighter weight construction - made entirely of an exclusive cushioning compound specially formulated to withstand repeated impacts and freezing temps for long lasting shock absorption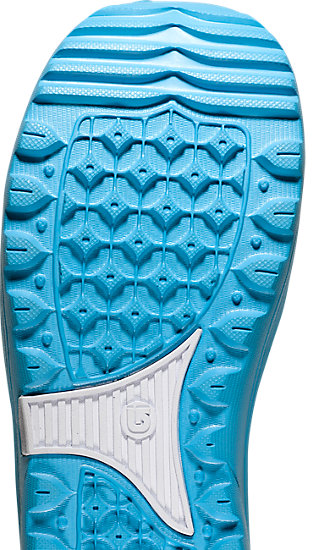 Additional Features
Snow-Proof Internal Gusset – All Burton boot tongues feature an internal gusset construction to completely seal the lower zone of the boot, keeping feet warm and dry.
The world's bestselling women's snowboard boot 11 years running