Flex
Flex Rating: 4 (1 Soft - 10 Stiff) – This binding is great for park with a forgiving flex that is still very responsive.
Baseplate
A-Line GF – Nylon and fiberglass materials are reinforced to create an extremely lightweight and flexible binding in one durable piece. This binding also has a tool-less power ramp for easy adjustments on the go.
Canted Seamless EVA Footbed – Angled inward at 3 degrees for a natural leg stance during riding. Added support on the outside of foot provides improved control and better pop. The poly-carbonate tool-less Pop Top Disc Cover makes it easy to access the disc mount and screws while preventing snow-build up.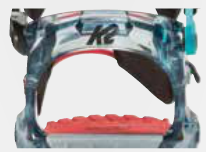 Straps
Women's Caddi Ankle Strap – Designed to fit a boot seamlessly with a 3D contoured shape, a narrower waist profile for better flex range and a tool-less cam lock centering.
Universal Toe Strap – This strap is designed to be worn over the toe or on top of the boot. It's cored out for a lightweight and secure fit over the toe.
Buckles
Mega RADchet – A wider, tapered ladder opening allows for an easy entry and the cinch housings keep ratchet position while kicking to the lift. The Mega's are made with an aluminum lever.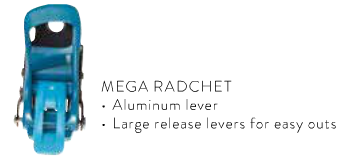 EZ Feed Housing
Highback
Women's Peaceback™ – This women's specific highback has a center spine for a heightened heel-side response, with a forgiving side-to-side flexibility. The calf has a thermo-formed EVA calf pad to seamlessly contour a women's calf for comfort and enhanced performance.
Additional Features
Universal MC Disc – Mounts on 4-hole and slot systems. Powerhold washers for bomber locking power.