Flex
Flex Rating: 2 (1 Soft - 10 Stiff) – The Vandal Bindings have a soft flex rating for better feel and turn initiation.
Baseplate
Multi Compatible Disc – Two slot design mounts on 4-hole and 3-hole patterns. // Align slots tip-tail for 4-hole. // Align slots toe-heel for 3-hole.// Powerhold washers provide bomber locking power.
Formed EVA Shockpads
Power Ramp – Tool-less adjustment // Integrated with full seamless footbed
Pro-Fusion PC – K2 Chassis system features On-Board Power Ramp Adjust, On-Board Toe Strap Mount Position, and Multi-Position Ankle Strap mount.
Straps
Caddie Ankle Strap – Fully contoured 3D shape fits the boot perfectly // Narrower waist profile for freer flex // Tool-less Cam lock centering
Tool-Less Universal Toe Strap – Wear it over the toe or on top of your boot // Cored for a lightweight and secure fit over the toe // Tool-less cam-lock adjust
Hella RADchet – Composite levels // Large release levers for easy outs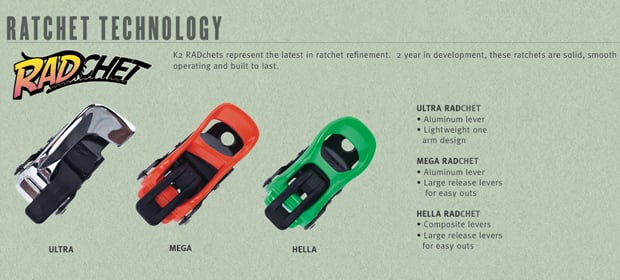 Cam Lock - Center Adjusting – Tool-less and secure adjustment allows you to precisely center your straps with ease and speed
Highback
Tweekback Groms – The Tweekback Groms highbacks are designed to fit smaller boot sizes and feature a tool-less adjustable forward lean.