Flex
5/10 Flex Rating – A solid medium flex for all-mountain riding
Baseplate
Pro-Fusion GF – K2 Chassis system features Glass filled Nylon for Responsive Performance, On-Board Power Ramp Adjust, On-Board Toe Strap Mount Position, and Multi-Position Ankle Strap mount.
Canted Seamless EVA Footbed – Angled inward at 3 degrees for a natural leg stance during riding. Added support on the outside of foot provides improved control and better pop. The poly-carbonate tool-less Pop Top Disc Cover makes it easy to access the disc mount and screws while preventing snow-build up.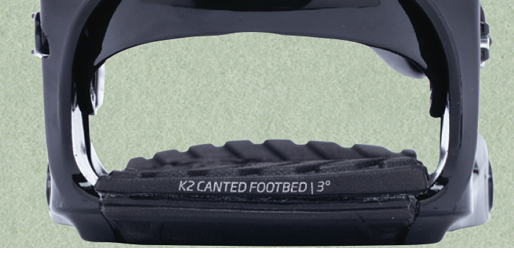 Power Ramp – Tool-less adjustment // Integrated with full seamless footbed
Straps
Custom Caddi Ankle Straps – Super cush performance // Ladder cover // Durable PU laminates
Cam Lock - Center Adjusting – Tool-less and secure adjustment allows you to precisely center your straps with ease and speed
EZ-Set Toe Strap – Wear it over the toe or on top of your boot // Independently adjustable top & bottom bands for custom fit // Tool-Less cam-lock adjust // Cored for a lightweight and secure fit over the toe
Mega RADchet™ – Aluminum levers with EZ Feed Housing make it easy to get in and out.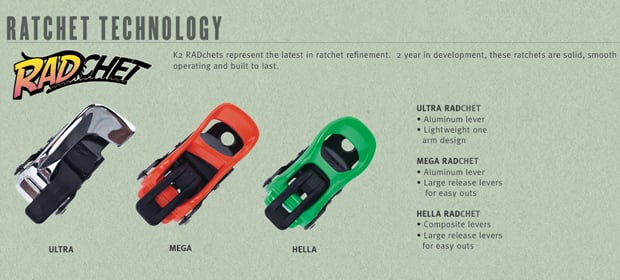 EZ Feed Ratchet – A wider, tapered ladder opening allows for easy entry
Hinge Mount
Highback
AT Nylon Highback – Patented Airlock technology // Seamless Power Transfer // Thermo-formed EVA calfpad
Additional Features
Universal Disc – Universal perf design mounts on 4-hole and slot systems. // Powerhold washers provide bomber locking power.