Flex
Flex Rating: 5 (1 Soft - 10 Stiff) – An ideal medium flex for all-mountain riding.
Baseplate
Women's Cinch™ C2 Chassis – Designed with a reinforced nylon baseplate heel cup for extra hold and comfort. This chassis has lightweight cored side rails for better precision when turning and is equipped with a tool-less power ramp.

Harshmellow™ Footbed – Seamless construction with tool-less pop top disc cover gives you easy access to your disc mount screws. The Harshmellow™ has you equipped to handle the impact from harsh landings by absorbing shock.
Power Ramp – Tool-less adjustment with Integrated Full Seamless Footbed
Canted – Angled inward 3 degrees to match your natural leg position during riding. More support to the outside of the foot provides improved control and ollie pop. Reduces fatigue allowing you to ride longer and stronger.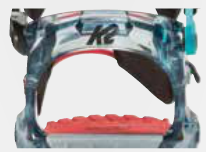 Straps
Cam Lock Center Adjustment – Tool-less and secure adjustment allows you to precisely center your straps with ease and speed even when your hands are cold.
Women's Caddi Ankle Strap – Designed to fit a boot seamlessly with a 3D contoured shape, a narrower waist profile for better flex range and a tool-less cam lock centering.
Universal Toe Strap – This strap is designed to be worn over the toe or on top of the boot. It's cored out for a lightweight and secure fit over the toe.
Buckles
Hella RADchet – Designed with a wider tapered ladder opening allowing for an easy entry. The Radchets have cinch housing that keep the ratchet in position at all time. The levers are made of composite.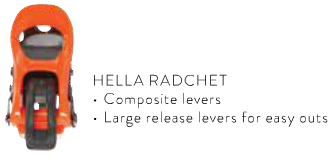 Highback
Women's Cinch™ Peaceback – This women's specific highback has a center spine for a heightened heel-side response, with a forgiving side-to-side flexibility. The calf has a thermo-formed EVA calf pad to seamlessly contour a women's calf for comfort and enhanced performance. Tool-less forward lean adjustment.
Additional Features
Universal MC Disc – Mounts on 4-hole and slot systems. Powerhold washers for bomber locking power.