Flex
Flex Rating: 3 (1 Soft - 10 Stiff) – Medium-Soft Flex designed for progression or freestyle riding.
Baseplate
Women's A-Line Chassis – These bindings are built as a one-piece design with tough and extremely lightweight polycarbonate material. They have a dialed-in flex specific to a female rider and a tool-less power ramp for quick adjustments.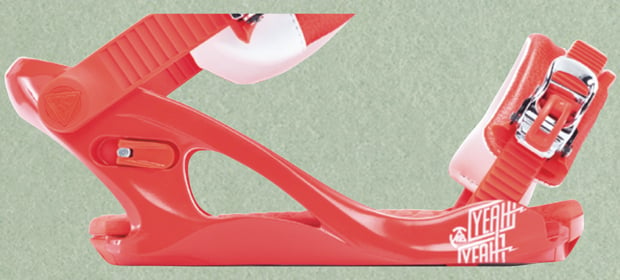 Power Ramp – Tool-less adjustment with Integrated Full Seamless Footbed
Straps
Cam Lock Center Adjustment – Tool-less and secure adjustment allows you to precisely center your straps with ease and speed even when your hands are cold.
Women's Caddi Ankle Strap – Designed to fit a boot seamlessly with a 3D contoured shape, a narrower waist profile for better flex range and a tool-less cam lock centering.
Universal Toe Strap – This strap is designed to be worn over the toe or on top of the boot. It's cored out for a lightweight and secure fit over the toe.
Buckles
Mega RADchet – A wider, tapered ladder opening allows for an easy entry and the cinch housings keep ratchet position while kicking to the lift. The Mega's are made with an aluminum lever.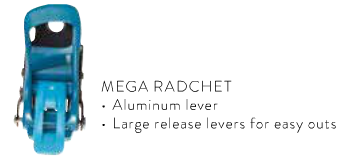 Highback
Women's Tweekback™ AT – Made of urethane these are all-mountain / all-terrain performance highbacks specifically designed for a women's desired support and flex. They have a seamless power transfer and a tool-less forward lean adjustment.
Additional Features
Universal MC Disc – Mounts on 4-hole and slot systems. Powerhold washers for bomber locking power.