evo Size and Buying Guides - We have one of the largest selections of wakeboard bindings on the web, a super knowledgeable staff and expert guides.


To choose wakeboard bindings, you will want to consider:

Flex
Flex is one of the most important factors in deciding which wake boot is right for you.
The flex of wakeboard boots can vary dramatically between models from stiff to very flexible. The flex of your boots is personal preference. Some riders like to feel locked into stiff boots with a lot of ankle support while other riders like a softer flex which gives them the ability to tweak their wakeboard in different directions during tricks.
Similar to snowboard boots, the stiffer your wake boot, the better it is for carving and speed. The softer it is, the more maneuverability you will have for tricks. Check out the 1-5 Stiffness Scale (1=soft, 5=stiff) on product details pages when available.
Most often beginner bindings are more flexible (softer) than bindings geared towards advanced riders.

Shop Beginner - Intermediate Wakeboard Bindings
Shop Intermediate - Advanced Wakeboard Bindings
Shop Advanced - Expert Wakeboard Bindings

Fit
Controlling your wakeboard with loose fitting boots is like trying to type with mittens on. Your wakeboard boots should be snug but not so tight that they are painful. Most boots are designed to fit a range of shoe sizes. Wakeboard boot lubricant will help you get into a snug binding that fits correctly. Listen to your feet!

Wakeboard Binding Features
Wakeboard boots have many features you will want to consider when choosing a new boot. For the best fit, many riders choose to have their own set of boots even if they share a wakeboard. Remember, boots may easily be swapped out on the boat between rides if this is the case.
Open-Toe
This gives your toes some breathing room. A big benefit of open-toe boots is that you may be able to squeeze a few more shoe sizes into an open-toe boot than you can into a closed-toe boot. Open toe boots are a good option if you are purchasing just a single board for your boat, or if you have kids who are still growing.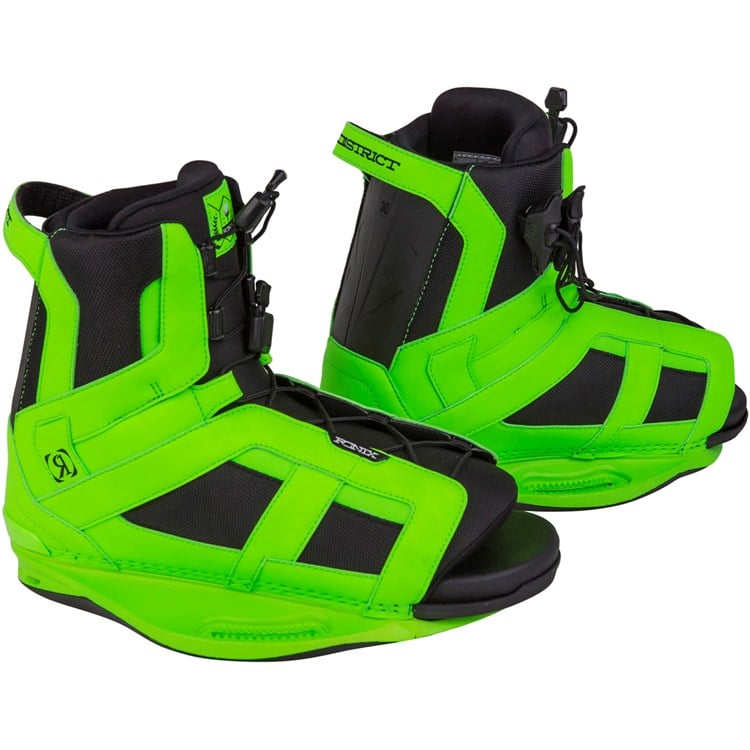 Ronix District Wakeboard Bindings
Closed-Toe
Closed-toe wakeboard boots offer a more precise fit, which allows for more control, increased leverage and quick heel to toe responses. Closed-toe can also keep feet warmer, which is a big plus here in the Northwest. Finally, they are usually higher end models and can be more expensive than their open-toe counterparts.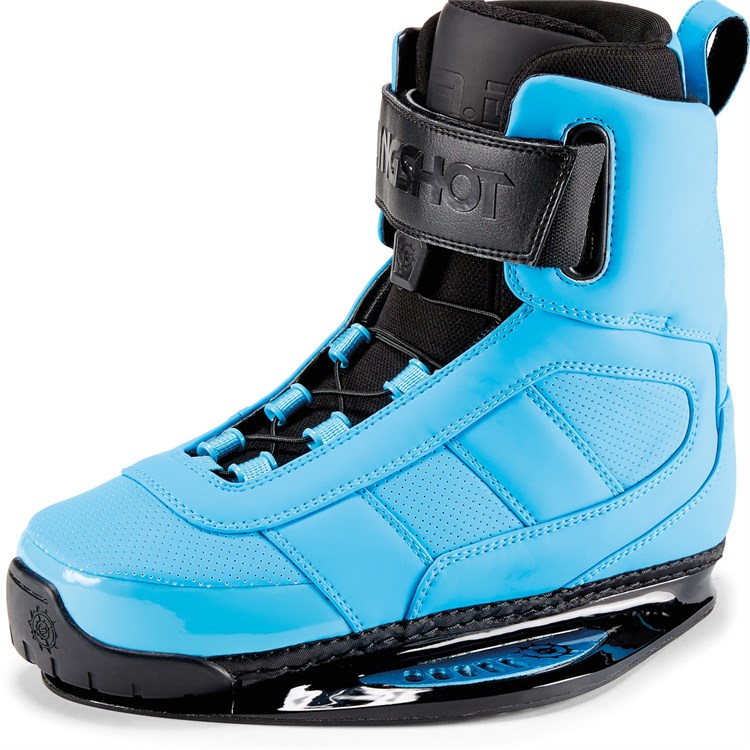 Slingshot RAD Wakeboard Bindings

Lacing Systems
Laces with Fasteners
These are a common, simple, and efficient system.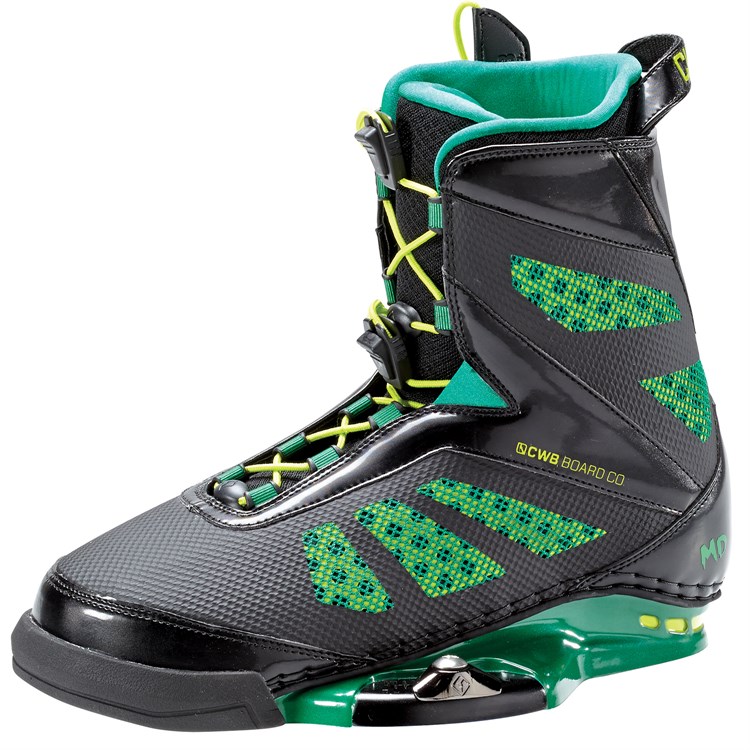 CWB MD Wakeboard Bindings

Boa® Lacing Systems
Boa® is designed for speed and strength, incorporating aircraft grade stainless steel laces with a dial ratchet closure. No laces to tie! Boa® can also be found on products such as cycling shoes and snowboard boots.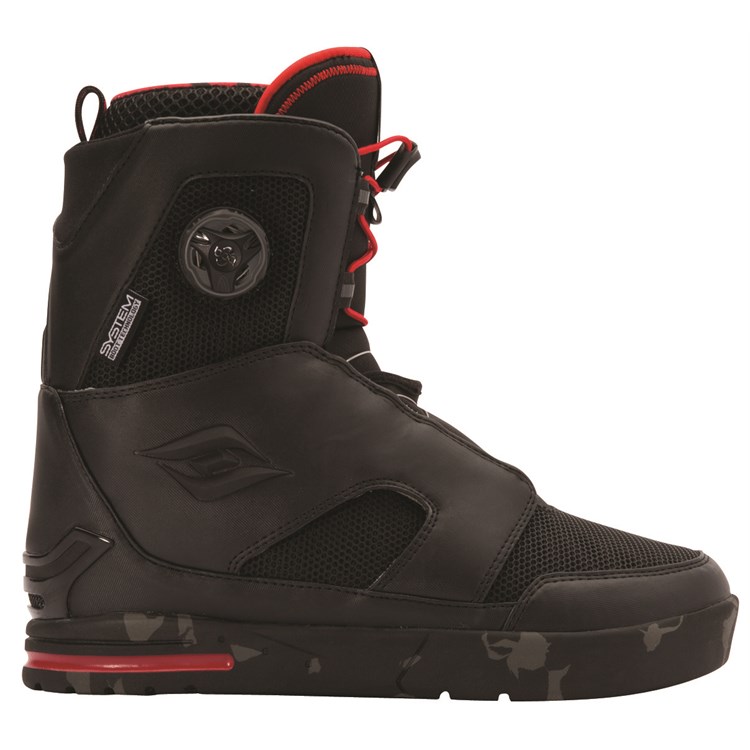 Hyperlite Market Wakeboard Boots
Velcro Straps
These are another common system found on wake boots. And once again, no laces to tie!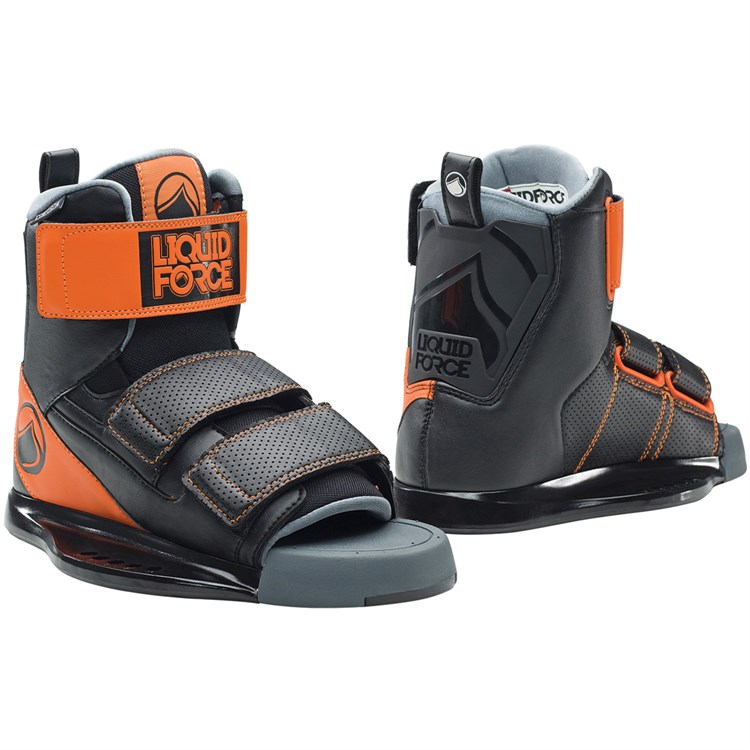 Liquid Force Domain Wakeboard Bindings

Hinges
Hinges allow for easier entry and exit from your wakeboard boot. The hinge on the heel of the boot allows you to open the boot with the flip of a lever rather than struggling through the narrow opening at the ankle. No water, no lube needed.

Shop All Wakeboard Bindings
Shop Men's Wakeboard Bindings
Shop Women's Wakeboard Bindings
Shop Boy's Wakeboard Bindings
Shop Girl's Wakeboard Bindings


Having trouble getting into your wakeboard bindings? Try the following tips.
Get your wakeboard boots and feet wet before trying to put them on.
Loosen up the boot and slide in your foot.
If putting on your boots is still difficult with wet feet try using a biodegradable lubricant.
Do not use soap! Soap dries out the boot materials, causing cracking and is not environmentally friendly. In other words, not only your boots, but the little fishes, plants and microscopic organisms that live in your lake do not appreciate soap. Don't make your fish taste like soap, yuck.


Will your wakeboard bindings be compatible with your wakeboard?
Will any wakeboard boots fit on any wakeboard?
Yes!
Really?
Well, most of the time.

View wakeboard and boot compatibility guide


How do you set up your wakeboard stance?
Duck feet! Stand comfortably on the floor and do a squat. Now think about the outward direction your feet and knees are pointed. Position your boots on your board with the boot toes slightly tweaked out toward the tips of the wakeboard. The angle at which you set your duck stance varies depending on your preference, but your stance should be completely symmetrical. This will not only give you a firm feel and control of your wakeboard, but it will also help you avoid injury. Most boots now list angle increments on the plates. A default angle of 12 degrees out with boots placed just wide of your shoulders is a good place to start until you develop your own stance preference.
There is no standard formula to achieve a correct stance. Two wakeboarders of identical heights and with similar riding styles may prefer different stances. In general, the taller you are the wider your stance. The most important aspect of the stance is how comfortable the rider feels. Just like sleeping, comfort translates to performance in wakeboarding.


Can you mount your wakeboard bindings without actual wakeboard binding screws from the manufacturer?
All wakeboard binding screws share the same universal 1/4" thread but not all companies use the same length screws. When mounting a binding without the factory screws, be sure that the screw is the correct length. The screws should be shorter than the thickness of the wakeboard and use a plastic washer to protect your binding plate. We do not suggest mounting your wakeboard bindings without the factory screws, but it can be done. Using a screw that is too long can result in a loose connection between your wakeboard and boots and damage your board and void a manufacturer warranty.
Shop Wakeboard Boot/Binding Screws

Learn more with our other wake guides below:
How to Choose a Wakeboard & Wakeboard Size Chart
How to Choose a Wakeskate & Wakeskate Size Chart
How to Choose a Wake Vest (Life Jacket) & Size Guide
How to Choose Ropes, Handles & Size Guide
How to Choose a Wakesurfer & Wakesurfer Size Guide
Compatibility info for wakeboards and boots


This is evo. We are a ski, snowboard, wake, skate and clothing online retailer with physical stores in Seattle and Portland. Our goal is to provide you with great information to make your purchase easy.
Still have questions? Please give our customer care team a call at 866-386-1590, Customer Care Hours. They can help you find the right wakeboard bindings to fit your needs.