Fit
98-104 mm 360° Custom Shell – Heat moldable shell will accommodate a wide range of foot shapes and widths.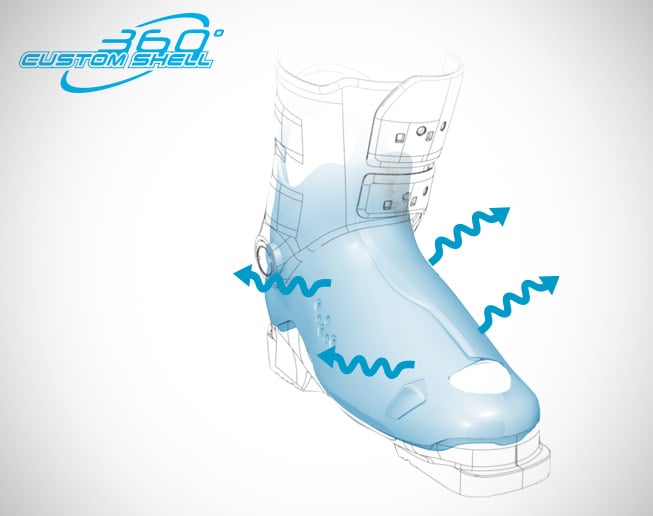 Women's Low Cuff – Anatomic cuff with lower rear support for women's calves for better fit & comfort.
Women's Calf Adjustment – The most efficient and convenient calf adjustment on the market. Only one screw turn enlarges the upper cuff up to 1cm to fit all legs shapes easily and quickly.
Flex
Flex: 90 – Stiff flex best suited for advanced to expert level women.
Liner
My Custom Fit 3D Performance Liner – Super comfortable out-of-the-box fit with 40% thermoformable foam construction.
Women's Liner – A liner with a specific height and cuff adapted to women's legs and calves.
Shell Materials
Bi-Material PU Shell – A bi-injected shell made from Polyurethane, a material with consistent density enabling effortless progress on-snow, provides well adapted stiffness in a, durable, dynamic and abrasion resistant piece.
Bi-Material PU Cuff – A reinforced rear, lateral insert allows the use of a softer front cuff for improved leg wrapping and progressive flex. This, durable, dynamic and abrasion resistant piece is made of Polyurethane, a material with consistent density that enables effortless progress on-snow.
TwinFrame Technology – Salomon dials in just the right amount of rigidity where it's needed for performance and leaves the shell softer in other areas to enhance comfort and ease of entry.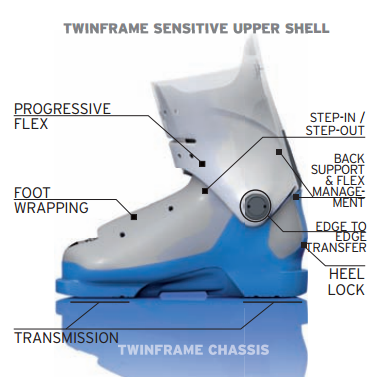 Stance
1 Energy Screw
4mm Integrated Lifter
Buckles
4 Micro Alu Buckles – To micro adjust the length of the buckles for a precise and personalized closure, just turn the lever. Alu buckles are more resistant and have a rich finish, accepted by all athletes because of their confident feel.
Tool Free Catch Adjustment – Easy tool free personalization to the lower leg volume by rotating and moving the catch laterally.
Power Strap
35mm Velcro Power Strap
Sole
ISO 5355 Bi-Material Alpine Sole
Additional Features
24 mm Oversized Pivot – Better control during edging.